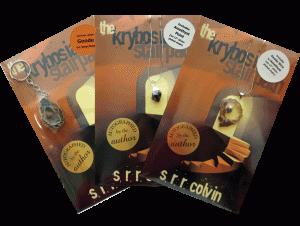 TKS is now available with a story-relevant geologic novelty shrink-wrapped to the cover (shown above), only at select bookstores.
Contact the author for more info or a list of stores.

Standard formats available:
►5 x 8 paperback (book only)
►E-book
►Kindle and Sony Reader
Online retailers and outlets:
infibeam.com – India
(infibeam's Deliverable Countries: This product ships to United Arab Emirates, Australia, Belgium, Bahrain, Switzerland, China, Germany, Spain, Finland, France, Hong Kong, Indonesia, India, Japan, Kenya, Kuwait, Sri Lanka, Malaysia, Netherlands, New Zealand, Russia, Saudi Arabia, Singapore, Thailand, South Africa.)
eLibrary – Open Ebooks Directory – includes most of the ebooks sold on the internet. Free for addition of one's own ebooks.
Note to brick and mortar booksellers:  The Krybosian Stairpath is listed with Baker & Taylor and in Ingram's automated Title Information Database.  Contact srrc@srrcolvin for more information about stocking this title.
TKS items are available.  Follow the tee shirt link below to see other customizable items.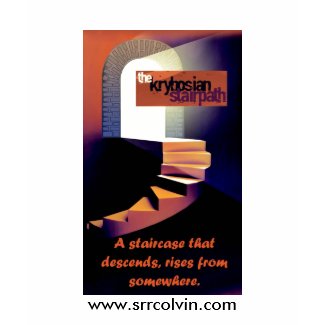 Women's Fitted Tee Shirt by srrcolvin
View other Shirt T-Shirts